Among all the things that you need to decide in the course of your wedding planning, one of the most important things is to decide the sort of centerpiece you will have for your guests' tables. It is a crucial visual element that you will need to consider as your guests are going to be seated at their tables for a considerable amount of time. Making sure that your guests love your centerpiece is based on a few key elements, the first being the beauty of the centerpieces. Secondly, you also need to consider the practicality of the arrangement as elaborate arrangements may fail to entertain guests for long if it blocks their visibility.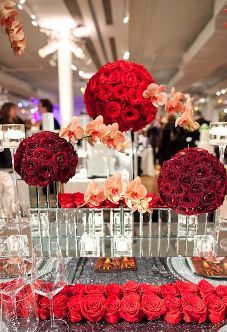 6 Super tips to help you get started
Keeping in mind the elements that go into planning the centerpieces for your wedding, here are 6 tips to help you get on your way towards having the wedding of your dreams, with the perfect centerpieces.
Do your research
Make sure that you have done your research before you go to meet your florist. Try wedding magazines and online websites to help you through this part of your journey. Keep an eye out for interesting centerpieces at other weddings you attend. Having a rough idea of what you want, even if you are not sure exactly can really help to speed things up with your florist.
Does size matter?
You might be tempted to go with a large and elaborate design but keeping them at tables where guests will be seated will cause a decreased visibility. Why did you agonize over the seating plans if they weren't going to be able to talk to each other? Make sure that any large floral arrangements that you use are placed on unused tables like the buffet table or along the sides of the hall.
Seasons change
Choosing seasonal flowers can help to reduce the cost of your floral arrangements as the flowers that are commonly available at a time will cost less. If some of the wedding flowers in Chicago that you want are out of season or much too expensive for your budget find substitutes that look similar. Also, make sure that you pay attention to the season in which you choose to wed, if you are getting married in the hot summer you will need flowers that will last through the ceremony.
Pick your wedding theme
Bouquets can reflect your wedding theme in a much unexpected way. Traditional flowers like roses or peonies give off a traditional vibe whereas more loosely designed arrays of bigger blooms give off an elegant, romantic look. Depending on the theme that you are going for, the floral centerpieces that is ideal for your dream wedding changes and so make sure that you keep that in mind while picking a centerpieces.
Determine your floral budget
Before you start describing the wedding of your dreams to your florist, plan out how much you are willing to spend on flowers and floral arrangements for your wedding. This is essential because you need to be able to give your florist a budget estimate early on so that you don't have unpleasant surprises later on. If you really want to get flowers that are out of season at the time you plan to get married, be prepared to cut expenses somewhere else.
Venue and seating arrangements
Floral arrangements need to match the venue of choice and the tables and not just your likes. If you plan on having an outdoor wedding, you can choose to have small centerpieces as they will be just as effective. Elaborate clusters of wildflowers may look awkward if placed in an otherwise traditional setting. Pay attention to whether your venue places restrictions as well as some do on having breakable glass centerpieces and other specifications that might cause accidents such as open flames.
On your special day, your wedding flowers (weddings.about.com/od/weddingflowers/) are a reflection of the love that you and your partner share and choosing the right centerpieces is a key factor to getting your décor just right. Keeping in mind the seasonal availability, budget and venue related restrictions, the perfect floral arrangements can be chosen for the wedding of your dreams.