There are a lot before wedding preparations and we all want to make the best of it. One of the most consequential parts of a marriage ceremony is the wedding first dance. The first dance adds beauty and glory to your magnificent wedding, and you can nail it with a witty preparation.
You are fortunate if you and your partner are good dancers as a little preparation can make your audience drool over you. However, if both are amateur dancers, a good amount of planning and clever execution is necessary for rocking the stage. You should make sure you do not disappoint yourself by making some silly mistakes.
To assist you in making your first dance a special one, we have come up with some tips and advice:
Choose an appropriate song that best fits the occasion: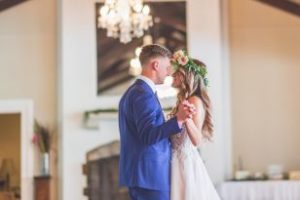 You should not overlook or neglect the aspect of the selection of an appropriate dance song. Make sure the lyrics of the track should suit the occasion and not be offensive. Sometimes, the song is melodious, but the lyrics could be unfit for the occasion. This may lead to some uncomfortable moments and make the scene go off the track.
Choose a soft and soothing song. Have a prior discussion with your DJ about the version of the song as it may happen that you chose the original version but faulty planning stumbles you upon a remixed track.
Remember, a long routine can make the audience disinterested in your performance. Make sure you maintain the duration of your routine of around 3 to 3.5 minutes.
Do planning for the selection of your attire:
The bride and the groom should make practical decisions about their outfits for the first dance. To look awesome at our wedding dance, we often make mistakes choosing the attire or shoes. High heels may not allow you to take those swift turns and twists on a sleek floor. You can choose ballet shoes.
The mood of your first dance may disturb if you trip over your lengthy trail. Avoid wearing mermaid gowns or fishtails as they may not be conducive to some dance styles. Tea-length dresses, loose-fitting gowns, jumpsuits, trouser suits, shear petal-Esque gowns are some apt apparel for the first dance.
Dress malfunction is manageable for professionals, but beginners have to be cautious about avoiding embarrassing situations. Rehearse the song with your partner wearing the same shoes meant for the special occasion.

Take a few lessons from a choreographer:
Do not hesitate to approach a choreographer or a private dance lesson for good preparation. The choreographer will assist you with the selection of songs and will train you with some easy and accessible tips and moves. They will assess your comfort zone and give you some best ideas.
From taking pivots to ending up with a charming dip, they will be your best mentor in making sure you nail the romantic moment. You can also rehearse with your partner at home if you cannot take time out of your hectic arrangements for the wedding day or cannot persuade your partner for taking classes.

Be carefree and do not get nervous:
Once you are on the dance floor, you devote yourself to your partner. If your performance falters or some mistakes occur, do not lose your confidence. It's the trust of your relationship that displays in your dance and not the technicalities. So, avoid making your routine lengthy as it increases the chances of errors.

Stay connected to your partner and enjoy the moment:
Look passionately into the eyes of your partner while dancing. Look towards him/her more than to the audience as this will show your love and passion towards each other. If your partner makes a mistake, cover it with a fake smile and boost his/her gestures to keep up the momentum.

Wedding Dance Lessons Near Me:
There are a few wedding dance lessons near me that offer the best classes to learn beautiful moves and techniques. Wedding dance lessons near me are available at affordable prices, providing quality training.

Conclusion:
Lastly but most importantly, relish the moment to its fullest. Stay calm and maintain your composure while your first dance. It will not just boost your performance but will also give comfort and happiness to both of you. Sway it gracefully!