The perfect wedding dance has the potential to become the best memory of your wedding. Both guests and the couple look forward to it with equal enthusiasm. This article will help you avoid three main mistakes so that your fond memory of your first wedding dance remains a beautiful moment to look back at several years down the lane.
Mistake #1: Not changing your outfit for the dance
This thought is true as much for the bride as for the groom. Brides wear heavy, flowing dresses for their weddings. If they are getting married in India, they wear a saree with heavy jewelry. While these dresses are appropriate for the traditional rituals in weddings and to walk down the aisle, they are not the perfect outfits for dances.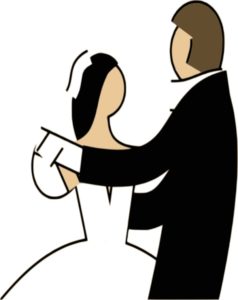 Brides must consider changing their outfits after their wedding ceremony and before the reception. Couples perform wedding dances during the reception. Brides may opt for one-piece dresses that are light on the body. Brides may also want to consider changing their heels into something more comfortable, like flats or sandals, since they might end up dancing for hours together.
Some options for brides are:
•  Jumpsuits with floral leaves to make the outfit look festive yet feel comfortable to dance in for long hours
•  A jumpsuit with trails attached to give it the impression of a dress, but it is handy.
•  Mini-dresses that are both one-piece and light
•  Long gowns that fit well to give a good shape while feeling snug on the body. They remain secure while performing high beats dances.
Mistake #2: Not knowing how, when, and where to dance
If you search for wedding dance lessons near me, you might find a lot of dancing lessons offered for brides and grooms to prepare them for their wedding dance. Couples must consider enrolling in one of these courses to feel confident about dancing with each other and in front of a large crowd.
Wedding dances can be unnerving, especially if the couple has not danced before. To feel confident, couples must take the time to learn to dance and choose the songs carefully as per their liking.
Many couples prefer to have a live orchestra perform songs at their wedding. However, couples that are planning to dance must consider the fact that live performers may change the tune of the song. If the couples have practiced their special song according to its beat, then they will be surprised to suddenly learn that the live orchestra performers have modified the tune as they often do.
To all the couples out there, do take the time to speak with your DJ. If you are not planning to have any live performance, then take the time to select the songs and the order in which you would like them to play. You might want these songs to be your favorites and reflect your cherished moments. Being prepared is the best practice to stay calm and make sure everything goes smoothly.
Mistake #3: Shorter, sweeter, and better
A major mistake that couples do is select a long loop of songs and never leave the dance floor. Dancing for such a long time is both exhausting and anxiety-provoking. Instead, couples can choose a song that is less than three minutes and make it their most cherished moment.
The song has to, of course, reflect their best memories. The couple can then invite other guests to dance along with them so that they do not occupy the stage all the time. Either way, a dancer who is not professionally trained will find themselves getting tired after roughly twenty minutes.
It is crucial to maintain your energy levels for the entire evening. Go for the short and sweet.
Conclusion
Planning the perfect wedding dance is understandably stressful. The bride and the groom will benefit from taking the time to speak with the wedding's DJ, taking dance lessons by searching wedding dance lessons near me, and practicing dancing as a couple. The wedding is the best memory that a couple will have of their beginning as a life together. The first wedding dance is a huge part of that memory. Take the time and effort to make it a fond memory.