Wedding is one of the biggest days in your life and also probably the happiest. While you are all excited to buy gorgeous wedding dress and get ready for your special day, it is arranging the reception that actually takes loads of your time and efforts. You can get burdened by numerous decisions that have to be taken and arrangements that need to be planned. But one of the most vital decisions that can transform the entire look and feel of your reception is picking up the right wedding centerpieces.
There are numerous factors you must consider before selecting centerpieces for weddings. First and foremost consideration is the budget. Ascertain the number of centerpieces required. This will be equal to the number of tables at the reception. Divide this number with your total budget and you will get the amount you should spend per centerpiece. Next you should determine the space available for each centerpiece. It is important that it should not obstruct the vision of your guests and make conversation difficult from across the table. It must not be too big or get in the way of the comfort of those seated at the table. Another essential thing is that the centerpiece should match with the general décor and theme of the reception. You can coordinate the colors of flowers with the color of the bridesmaid dresses.
However, one thing you should always be careful about is finding out from the venue managers, if there are certain things that are prohibited. Some sites do not allow fire or breakable items at their location; therefore you should be aware of these banned items and let your decorator know about them so they are not used in any centerpieces. If you are low on budget, you can economize on the cost by using the seasonal blooms. You can also consider reusing the aisle flowers and bridal bouquets for general décor and centerpieces.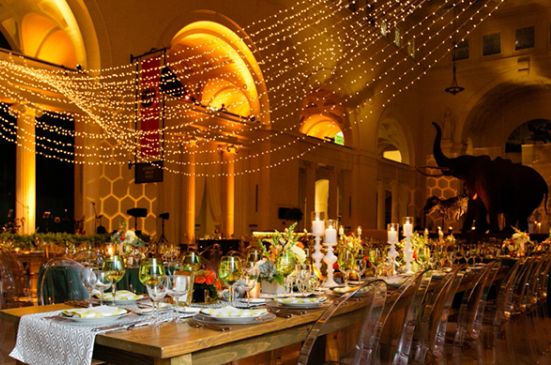 When your guests are not busy dancing, they will probably be busy chatting or eating at their tables and one thing that will be in front of their vision all through will be the centerpieces. That is the reason why you should be careful while selecting these decorations and give it a proper thought. These days centerpieces for weddings come in different styles and are created with unique components such as fruits, chocolates, cupcakes, mirrors, candles and balloons. Here are seven of the most creative wedding centerpieces that you can use at your reception:
1.  Beach Themed Centerpiece
You can bring in a feel of the beach and the sea at your wedding with beautiful seashell centerpieces. You can use fishbowls or flower vases and fill them with some sand. Top them with some beautiful seashells and use blue silk runner on the table for that serene aqua feel.
2.  Classic Gold
Use golden twigs with classic white flowers to give your wedding centerpieces a sophisticated look. Gold color is the symbol of royalty and prosperity and looks stunning at any reception décor.
3.  Bubbly Extravaganza
You can raise a toast to your new beginnings with champagne themed wedding centerpieces. You can put glass ball ornaments in champagne flute glasses to resemble bubbling champagne along with some white orchids or lilies.
4.  Harvest Look
If you are having a rustic wedding, then you can consider a harvest themed centerpiece with wheat and dried leaves gathered in a bouquet form with a beautiful satin bow for that comfort feel of fall bounty.
5.  Sweet Touch
As an alternative to the usual flower centerpieces, you can think about trying a centerpiece made with sweets like doughnuts, cupcakes, chocolates and muffins. Just make sure that the weather is not too warm or it could cause the edibles to spoil.
6.  Balloon Love
Using huge balloon bouquets as wedding centerpieces (www.ehow.com/how_4855037_make-wedding-centerpieces.html) can give your reception a romantic and fairytale feel. Use balloons filled with helium and tie some rocks at the end of the string to keep them in place. You can also coordinate the color of the balloons with the dress of the bride.
7.  Victorian Tea Party
Add a piece of England at your reception with tea cup inspired centerpieces. You can creatively stack tea cups and place tea light candles in them to create a cozy and dimly-lit ambience.
So, go ahead and choose interesting centerpieces for your wedding or your reception and make your guests gape at the décor with both appreciation and amazement!