Your wedding is over, guests are gone, and decorations are taken off; what is left as memories are the photographs of your special day and your beautiful wedding dress. Your bridal attire is the symbol of your wedding day and you would want to treasure it forever. There was a time when only wedding dress preservation method available in the market was vacuum packing it in a box. But now with a wide variety of preservation methods available, selecting the one that is most suitable for you might be a little tricky.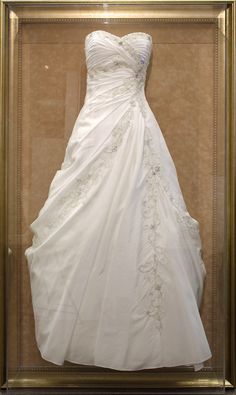 Why Not Choose the Conventional Vacuum Preservation
The problem is that vacuum preservation is done to protect the gown from any oxidation damage, and hence in this case all the air is sucked out off the box. But this causes the gown to shrivel-up and result in permanent creases. In some cases, it can even cause the dress to tear-up. In fact, some even believe that leaving it uncovered and hanging in your closet would be better for your gown than vacuum preserving it. Even, museums refrain from sealing their heirlooms for following three reasons:
•  When you fold a garment and leave it like that for a long time, it tends to weaken from the creases.
•  Periodic inspection becomes very difficult, which is very essential for remedying any damage at the earliest.
•  If even the tiniest trace of moisture is left, it can cause the dress to develop mildew and mold, as sealing does not allow the textile to breathe.
Risks to Your Bridal Gown
You need to protect your dress from various elements. While keeping your dress covered will protect it from dust and light, but it will still be prone to other risks.
1.  Yellowing: This is one of the most common enemies of wedding gown and can spoil your beautiful, bright and shiny white dress. The biggest reason of yellowing is plastic bags. They secrete chemicals and the resultant fumes can cause the gown to lose color and turn yellow. You can prevent this by wrapping your dress in acid-free tissues or muslin cloth.
2.  Permanent Creasing: Because of the size of the bridal gown, it becomes impossible to store it flat on the surface, which is the best possible way to avoid creasing. But you can make a compromise by hanging or boxing them. In the case of boxing, you are advised to reopen the box and refold your gown in a different manner every 2-3 years, but in hanging, no such hassle is required as your gown is protected from permanent creasing because of the hanging position.
3.  Mold: Attack from mildew and mold can be prevented by keeping the gown in a breathable condition. The thing is if the fabric breathes, it allows the dress to maintain constant humidity and allows the extra moisture to evaporate.
How to Preserve Your Wedding Dress
The first step towards preserving your wedding gown is getting it cleaned from professionals. It is imperative that your bridal dress is spotless before you store it. Once you have your clean bridal gown in hand, the next step is to keep it in the best possible state and protect it from dust, light, oxidation, mildew, mold, yellowing and permanent creasing.
Wedding Dress Preservation Options
Nowadays, three types of dress preservation options are available in the market:
1.  Sealing
This is one of the most conventional methods of wedding dress preservation and is not so popular these days. It has loads of disadvantages as previously discussed and should be avoided.
2.  Boxing
In this method, the dress is cleaned and then folded into a box. Strong creases are avoided and acid-free tissues are used for extra protection. A good quality wedding dress storage box must be both acid-free and lignin-free. However, in this method the dress should be periodically taken out and inspected.
3.  Bagging
This is one of the most preferred preservation methods. Museums have been using it for years to preserve their costumes and gowns. It not only protects the gown from dust and light, but also from permanent creasing. It allows the fabric to breathe and also allows easy inspection of the gown. Just make sure you opt for a muslin storage bag instead of plastic garment bags and always use a padded hangar inside.
No matter which wedding gown preservation you choose, keep your wedding dress (www.ehow.com/how_3971_preserve-wedding-dress.html) in a climate-controlled area and not in an attic or damp basement, where humidity is more and temperatures can fluctuate dramatically.