If you have to dance as a couple in front of a large crowd, it can be a bit daunting for you. If you like to follow tradition, then the first dance is something that most couples are waiting for during their reception. Engaged couples spent a lot of time selecting their first dance song, but they forget to pick up the dance style, which they will be performing on D-day. If you have no idea about which dance style you and your partner might be comfortable in, it is time to seek professional help.
You can search on Google for couple dance classes near me and go to the best dance studio to get complete guidance on how to do a couple dance on the wedding night. They will guide you on which dancing style is ideal for you and choreograph your dance as well. Below we have shared some of the dance ideas you could do as a couple at a wedding.
The Sway
It is a go-to dance style for couples who have little or no time preparing for the first dance. The sway is like a slow dance with a simple forward and backward swaying, with arms wrapped around each other. You can dance to romantic songs and a chat with your partner and get a chance to relax in between the hustle.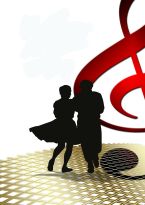 The Classic Waltz
The classic waltz is a bit faster than the traditional slow dance. There are various waltz forms like International, Cajun, Viennese, American, country western, and French. You will need a little bit of assistance for this dance form by an expert choreographer as waltz includes some difficult turning patterns and box steps. A modern and sweet ballad song goes well with this dancing style.
The Foxtrot
The foxtrot lies somewhere in between the swing and the foxtrot. This dancing form is popular among couples at a wedding as you can incorporate some playful moves with a medium tempo. Any contemporary and classic songs go well with the foxtrot. But we will recommend going for some couple dance classes near you to learn the step of this style and then hit the dance floor. And the best part of the foxtrot is that the brides can dance this style in any wedding outfit.
Salsa and Mambo
Both mambo and salsa are different dance forms but share some common characteristics. Both of them include some complex steps and are faster-paced than rumba. The salsa is rhythmic and fluid, while the mambo is staccato. You can select a song that does not have to be necessarily a Latin song. Take professional dance lessons to perform the style as it is.
Mashup or Free Form
If you want to perform several songs as a couple at a wedding, then the possibilities are endless as well. Pick your favorite dance forms and match them up with the best tunes and your style. Your partner can also contribute some steps to fix up the dance routine. In this way, all the guests at the wedding can feel the love between your soulmate and you.
The Swing
Swing includes different dancing styles like Jitterbug, Boogie, West Coast, Lindy hop, Jive, and East Coast. If you are planning to do this dance at a wedding, you have to make sure that you are wearing something comfortable as it is quite fast pacing and include some lifts, leg kicks, and turns. It is a lively and fun way to start your marriage. You will need professional help to learn this dance form. Ladies can change into a flowy or shorter dress with a shirt underneath the costume and wear comfortable shoes. Gentlemen, on the other hand, should get rid of the tight wedding jackets.
Flash Mob
Flash mob dance form requires the participation of the other guests together with your partner. Flash mob starts with few people, and with time more people join in. In the end, all your loved ones are dancing on your moves. You can add your touch by spotlighting specific people in a part of the dance.