One of the most stunning aspects of a wedding ceremony is the beautiful flower arrangements. Flower arches, bridal bouquet, aisle décor and table centerpieces all help create that festive ambience. Be it exotic flowers or the seasonal ones, if chosen appropriately can create a mesmerizing effect. Beautiful blooms will not only act as decorative element but will also fill the air with subtle fragrance and result in a romantic ambience all through the ceremony.
However, the problem is that sometimes couples tend to go overboard and have a propensity to make some mistakes. Here are a few things you must know while picking the flower arrangements for your wedding: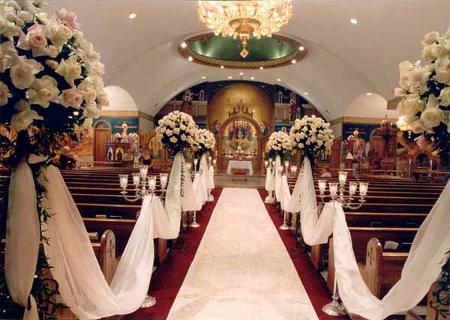 1.  Do not see the centerpieces individually while taking a pick. Instead, imagine them in harmony with the table setting and as a part of the entire reception room filled with guests. For instance, you may be having your reception in a hall with beautiful surroundings and scenery, but choosing large centerpieces for the table will block the view of the guests and will leave the scenic ambience ineffectual.
2.  Make sure you tell your florist about your vision for an ideal reception. Tell them your preferences and dislikes but keep a little room for flexibility and trust the professionals in case they suggest a substitute. The biggest blunder is being stubborn about particular flowers. You should just let your florist know about the ambience, look and feel you want and let them work on it independently. They are experienced in the field of organizing floral arrangements for weddings and know what they are doing.
3.  You can save money by reusing your wedding ceremony flowers for reception. This is because the actual ceremony only lasts for around an hour and wasting those flowers will be imprudent. You can consider using aisle flowers for table centerpieces and altar décor for the buffet table.
4.  Always begin your booking process after speaking to some vendors. This will help you estimate what various things actually cost and let you budget effectively.
5.  Do not be stubborn about avoiding costly blooms. Certain flowers like peonies and cattleya orchids tend to be on the expensive side but they also leave a bigger impression and take more space. You can replace a single orchid with a whole bunch of roses and you will still not be able to achieve that effect, even after spending more.
6.  Keep collecting pictures of the type of décor you like. Conveying your thoughts about your reception with images will let your florist grasp your needs in a much better way than words can.
7.  Never try to coordinate flowers with bridesmaid dresses. Instead use contrasting colors for more striking photography. For instance, purple flowers will look great with off-white dresses.
8.  Make sure you never choose flowers with strong smells. The problem is, excessively aromatic blooms in centerpieces can make your guests uncomfortable and be risky for people with allergies.
9.  Avoid flowers that have lesser shelf life. For example, blooms like hydrangeas can only survive for three to four hours if not hydrated and may start decaying even before the ceremony is over.
10.  Never try to DIY your wedding flowers. Leave it to professionals. They know what flowers to pick and how to time them into bouquets so that they keep looking fresh throughout the event.
11.  Always inform the professionals who organize floral arrangement for weddings about the bloom choices at least six-weeks in advance.  Sometimes flowers need to be flown in from various parts of the world like Holland, South America and more. With more time, you will not only get flowers well in time but also a lot cheaper.
12.  Being a bride, you should never carry a huge bouquet as that might cover your wedding dress and undermine your bridal beauty. Bridal bouquet should always be comfortable to carry and easy to hold.
13.  Flowers in the centerpieces are not more important than other components. Be it the vases or the linen, runners or the overlays, all complement the overall look and feel of the centerpiece. So make sure that you pay full attention to every aspect of the décor.
Keep the above tips in mind and choose gorgeous flower arrangements to decorate your wedding reception and make your wedding beautifully memorable!