Five Tactics of Planning Wedding Decor with Tropical Extravaganza
Are you passionate about celebrating your wedding reception in a tropical style? There is nothing to fret over! As you will get myriads of options to spruce up your venue with tropical themes. Usually, a tropical reception party is ideal for the summer days. Nevertheless, it can be executed if you have the plan of getting married at the end of winter. Now, how will you make arrangements for your wedding decor in Chicago?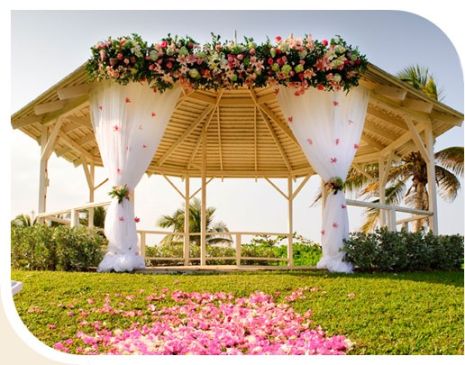 Let's check out some of the brilliant ways of decorating your special event with tropical extravaganza:
i.  Arranging the Outdoor Area
If you are planning to have a tropical theme on your wedding reception, focus on your outdoor place. Arrange a luau to evoke a tropical sensation to your guests. You can also ask your wedding decorator to bring leis at your reception party and give them to your guests upon their arrival at your reception. Bedeck trees in the outdoor space with white lights. Moreover, you can include floral decorations made with bright red, yellow and pink colors. Make your guests feel refreshed with fruit drinks along with a dish of meats and seafood starters. Let them feel stimulated with live music and fresh fruits. Adding these simple decorations will let them feel that they have been transported to a tropical isle.
ii.  Bedecking the Indoor Space
You may have the plans of getting married in winter when the weather is severe. In this regard, planning an outdoor wedding can never be a good option for you. As a result, you have to bring the tropics at your indoor space. So what would you do for adorning your indoor space? Just lay palm leaves on the buffet or dessert table and serve fruits with refreshing drinks bedecked with umbrella straws. If you want, you can also place artificial palm trees around the rooms. As a fun appetizer, you may serve scooped out pineapples with fruit skewers to delight your loved ones. Coconuts can also be added as bread baskets. In addition, choose bright flowers like orchids as the table centerpiece to attract your guests with a tropical charm.
iii.  Planning the Reception with Exclusivity
Make an elegant reception decoration with bright orchids. Choose pink orchid as your accent color and alternate them with white ones. Adorn your guest's tables in white table cloth with pink napkins. Besides, you can place small palm trees on the water glass. Offer cocktail to your guests with palm tree on your wedding day. Moreover, you can gift them seashells in small jars. Chocolates can also be presented to them in a box bedecked with a silk bow. Your guests will simply treasure these small souvenirs.
iv.  Placing Stunning Tropical Centerpieces
You may place a stunning tropical centerpiece with a lush backdrop for your wedding day. Make use of readily available fruits, flowers and potted plants for creating stunning centerpieces that will attract your guests. You could use a rustic grapevine basket with evergreen leaves on round mat and fill the basket with tropical fruits like pineapple as the main focal point.  Along with pineapple, you may use bright fruits like oranges, lemons, kiwis and lemons to fill up the basket. Don't forget to place small plates, trimming knives and napkins to let your guests relish the fruits served at the table.
v.  Creating a tropical ambience with garden flowers
Collect fresh flowers from the garden like bird of paradise, daylilies, hibiscus and rhododendrons to use them for your wedding decorations. However, if you don't have a garden of flowers, you can purchase harvest bouquets from the market and use them as centerpieces to create a tropical ambience. It would also be great if you use a branch of evergreen leaves with lush flowers in a cylindrical vase for offering a tropical feel to each table. Moreover, you could scatter votive candles or tea lights around your tropical centerpiece. If you can get exotic orchids, you can nestle the orchids in a bowl or flowerpot stuffed with marbles, white pebbles or tumbled glass. Select your bowl as per the color theme of your wedding and place it on the center table. Besides, you may line your centerpiece with candles and scatter rose petals of mixed colors on the table to evoke a tropical sensation. Float flowers like magnolia and gardenia to the water with small floating candles. All these arrangements are sure to bring a tropical feel to your wedding.
Follow these tips and make a remarkable wedding decoration. You may also consult a wedding decorator who has the expertise of decorating a tropical wedding.  Opt the best decorator in your town and captivate your guests in an unforgettable fashion.