Selecting floral arrangements for weddings isn't about picking your favorite flowers and putting together a bunch of them. As a bride, when you look forward to setting the decoration for your wedding day, there are few things about wedding flowers to pay attention to. Choosing the right floral decorations involves consideration of a lot of factors including budgets, seasonal availability, décor themes, and venue constraints and so on. However, picking your wedding flowers can be made simpler with the following steps.
Know your preference
Weddings are every bride's dream occasions and it is only natural that you want your favorite flowers to be used on your wedding day. You may like roses or find them commonplace. You may want to use expensive flowers or completely replace flowers with greens and succulents if you like making statements. Before you start hunting for your florist, it is important to first create this idea of what you want, what your expectations are, and how willing you are to compromise on them.
Set the budget
Once you create a fair idea of the kind of wedding flowers you need, decide on the amount you are willing to spend for the entire arrangement. Create a budget that is practical and which factors in different expenses including unforeseen or last minute ones. Also know that different flowers come in different prices. Gardenias, Casablanca lilies, hydrangeas, lily of the valley, and peonies are the most expensive while stock roses and freesias are the most affordable. Choosing rare flowers may burn a hole in your pocket, while picking seasonal flowers will help bring down the expenses incurred, and also ensure that your flowers remain fresh for a longer time.
Decide the theme and color
Floral arrangements for your big day should go well with the theme and the venue of the wedding. It should also complement your wedding dress and those of the bridesmaids and groomsmen. Be it in person on in a photograph, these flowers should create a lasting appeal. Do your research on the web or take the help of a professional florist, and select wedding flowers in Chicago that go with the rest of the wedding décor. Pay attention to the color of the flowers and that of the venue and the costumes. Ensure that they blend in well and do not look awkward.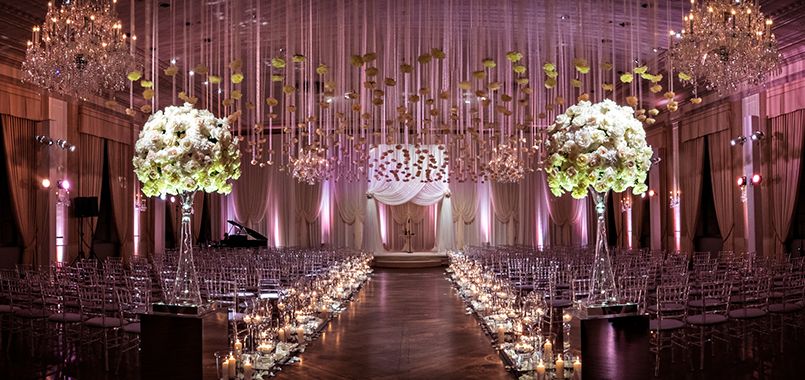 Determine the quantity and placement
Wedding flowers include different kinds of floral arrangements like bouquets, corsages, boutonnieres, and centerpieces etc. Also, present day weddings use flowers in a lot more creative ways –  in table runners, ceiling drapes, pomanders, floral fountains, botanical walls, chandeliers, crowns, frames and arches, and so on. Determine which of these arrangements you would need for your wedding and how many. Also pay attention to where these arrangements would be placed so that you are also able to decide on the size and quantity needed. Flowers used for the wedding ceremony can also double up as décor in the reception venue. This not only reduces expenses, but also ensures that the floral arrangements are used for a longer span of time, without being wasted.
Pick your florist
When choosing floral arrangements for your wedding, consult with more than one vendor. Take the help of wedding planners or your friends/family members who exchanged vows recently, to select a good wedding florist. Once you select the florist, discuss your budgets, preferences, and personal tastes with them. Clarify details like price, payment terms, delivery deadlines, contingency plans, and policies for cancellation, so that you are in for no surprise in the last moment. Sign the contract and follow up at regular intervals to ensure that everything proceeds as planned. Finally, on your special day, walk into the wedding venue of your dreams and let floral wonders take your breath away.